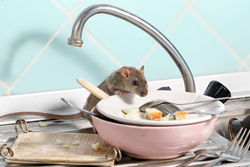 With restaurant closures, heading into the colder months, and an abundance of food supplies, dog food, and seed in the home, this is a perfect storm for a rodent infestation, and US homeowners have never had so much of each, all at once.
MOORESVILLE, N.C. (PRWEB) SEPTEMBER 29, 2020
Surges in rodent sightings, infestations and populations act as unprecedented effects of COVID-19's new normal, an unruly outcome that Kari Warberg Block, pest control expert and CEO/Founder of EarthKind, attributes largely to restaurant closings and shifts in consumer purchasing behavior and interests during lockdown.
"The drastic impact of the COVID-19 pandemic on rodents is one many didn't see coming," she states, "In addition to Fall being peak rodent season, the primary reason for this abnormal activity is mass business closures, particularly restaurants. Even as some US states begin reopening outdoor and indoor dining at limited capacity, restaurants aren't producing nearly as much food, and therefore waste, as they once were. This leaves rodents, who depend on these scraps as their food source, scrambling for new solutions. And, this is why so many homeowners are reporting recent rodent sightings – they're breaching into new territories, invading new neighborhoods and homes."
Warberg Block explains the cutoff of resources has activated abnormal rodent behavior, what she describes as 'rodent rage', "What we're starting to see is rodents, who are characteristically nocturnal, elusive creatures, emerge in broad daylight and in plain sight. They are in total fight or flight, survival mode, leading them to act extremely aggressive."
While the closure of restaurants is keeping rodents out, changes in consumer purchasing behavior as a result of the pandemic is driving them into homes. Warberg Block lists dog food as the number one rodent attractant, with different types of seed –such as bird and garden seed– coming in a close second.
According to Nielson, online pet food sales reportedly increased by 77% YOY in March 2020, and in just one month, from February to March 2020, online pet food sales jumped more than 51%, with subscription purchases increasing 28%. This rise in pet food sales is also continuously influenced by the unexpected increase in new pet ownership. Matt Bershadker, president and CEO of the ASPCA, reported that there has been a 70% increase in foster care in their NYC and LA programs year over year, and, as reported by NBC, shelters and animal advocacy organizations they've contacted throughout 11 states all reported overwhelming increases in animal foster programs and adoption.
Consumers have also taken up vegetable gardening during the pandemic, leading demand for seed to skyrocket. According to executive board member of the American Seed Trade Association, Tracy Tally, "Demand has doubled and tripled in size," with many U.S. seed companies experiencing a surge in sales. Johnny's Selected Seeds, for example, experienced a 270% increase in orders in mid-March.
"Analyzing these purchasing trends help connect the dots," comments Warberg Block, "An abundance of food supplies, dog food, and seed in the home, along with heading into the colder months, is a perfect storm for a rodent infestation, and US homeowners have never had so much of each, all at once. From 'pandemic gardens' to panic bulk buying and spikes in pet ownership, there is no doubt that this correlates to increased rodent sightings and infestations."
To keep rodents out, Warberg Block recommends storing food, pet food, and seed in air-tight containers, using garbage cans with a fitted lid, sealing gaps around the openings of electrical wires, and around windows, door ledges, holes underneath doors, and opting for a plant-based repellent like EarthKind® rather than using traps and poisons.
"This abnormal rodent activity as a result of the COVID-19 pandemic is another hurdle we face in navigating our new normal," she comments, "While rodent populations and sightings will continue to increase, especially in the Fall, it's important to understand what drives their behavior, along with natural, preventative solutions to keep them out of our homes. Together, we can create a World of Protection from poisons and pests for our homes, pets, and environments."
Media interested in learning more about EarthKind® or interviewing CEO/Founder Kari Warberg Block, please contact Sara White at [email protected] or 914-621-1323.
About EarthKind®
Founded by leading pest prevention expert Kari Warberg Block, EarthKind® is a pioneer in natural prevention for families and households everywhere. EarthKind is a pest prevention brand that manufactures naturally powerful and effective pest solutions that keep pests away, without killing or poisoning them. All EarthKind® products are designed by inventive artists, scientists and engineers who care about the earth, made in the USA with 80% of the materials sourced from American farms and the company is providing handicapped individuals with meaningful employment. Kari was awarded the 2019 GMDC Retail Champions of Change award for her role as an inspirational industry retail leader, and was named to the EY Entrepreneurial Winning Woman Class of 2012, 2013 ND SBA Small Business Person of the Year and National Second Runner Up. Her latest product line, Stay Away® was the winner of the 2015 NEXTY People's Choice Award for Best New Product of the Year. Learn more at https://www.earthkind.com and on social media:
FB: @EarthKindLiving https://www.facebook.com/earthkindliving
IG: @EarthKind.Living https://www.instagram.com/earthkind.living/
Twitter: @EarthKindLiving https://twitter.com/EarthKindLivingLiving
Pinterest: @EarthKindLiving https://www.pinterest.com/EarthKindLiving/