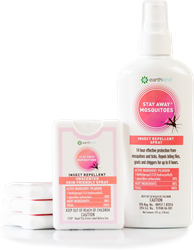 We couldn't be more thrilled to have our Stay Away® Mosquitoes spray be recognized for excellence by the very people we created it for – moms, children, and families. By developing products with safety, health, and efficacy in mind, we can create a world of protection for our families.
MOORESVILLE, N.C. (PRWEB)June 04, 2020
EarthKind®, makers of leading plant-based, poison-free sustainable pest prevention products, is honored to receive two influential awards. The Mom's Choice Awards® and the 2020 National Parenting Product Awards recognize EarthKind's novel Stay Away® Mosquitoes spray, a 14-hour mosquito and tick repellent that is safe for use on pregnant women and children when used as directed.
EarthKind® Stay Away® Mosquitoes was declared amongst the best in family-friendly products by the Mom's Choice Awards®. Through rigorous evaluation, entries are scored on a number of elements including production quality, design, educational value, originality, appeal, and cost.
"Our aim is to introduce families and educators to best-in-class products and services," explains Dawn Matheson, Executive Director of the Mom's Choice Awards. "We have a passion to help families grow emotionally, physically, and spiritually. Parents and educators know that products and services bearing our seal of approval are high-quality and also a great value. The MCA evaluation program is designed to incorporate the expertise of scientists, physicians, and other specialists, but we also engage parents, children, educators, and caregivers because they are experts in knowing what is best for their families."
The insect repellent was first developed with families in mind. Kari Warberg Block, CEO and Founder of EarthKind®, was determined to invent an effective, long-lasting spray, without harsh chemicals, that the whole family could rely on. "Having skin sensitivities to fragrances and harsh chemicals myself, and throughout my family, I wanted to create a powerful repellent that also felt gentle on the skin, while being effective and safe for use by the entire family, especially for pregnant women and children."
The resulting skin-friendly, unscented mosquito and tick repellent is EPA-registered, CDC-recommended, water-resistant and provides up to 14-hour protection. Made with Picaridin, which is bio-identical to a black pepper plant, EarthKind® Stay Away® Mosquitoes also provides 8-hour protection from biting flies, gnats, and chiggers, and protects against ZIKA, Lyme Disease, West Nile Virus, Chikungunya, and Dengue. It comes in both a full bottle and pocket-sized travel spray, making it easy for on-the-go use.
These features also appealed to the National Parenting Product Awards (NAPPA), which recognized it as one of the best in the industry, family must-have. NAPPA evaluators commented that they "like that the main ingredient is Picaridin, which is safe during pregnancy and for children," that it's "made with gentle ingredients. It's unscented and doesn't have a chemical smell or strong fragrance," and they "love that it comes in an easy-to-carry 0.6 fl.oz. size that is perfect for travel. It's also water-resistant, which is great for beach/water destinations."
"At NAPPA Awards our focus is family, and our mission is simple – find and showcase the best toys, baby and family products," comments the organization, "As one of the longest-running awards programs in the country, NAPPA is the go-to source for parents and professionals seeking the best products for their children and families."
"We couldn't be more thrilled to have our Stay Away® Mosquitoes spray be recognized for excellence by the very people we created it for – moms, children, and families," remarks Warberg Block, "By developing innovative products with safety, health, affordability and efficacy in mind, together we can create a world of protection for families across America."
EarthKind® Stay Away® Mosquitoes is available for purchase online at https://www.earthkind.com and has received 4.55 out of 5 stars from over 4,700 third-party verified, independent reviews. Media interested in speaking with EarthKind CEO/Founder Kari Warberg Block, please contact Sara White at [email protected] or 914.621.1323.
About EarthKind®:
Founded by leading pest prevention expert Kari Warberg Block, EarthKind® is a pioneer in natural prevention for families and households everywhere. EarthKind is a pest prevention brand that manufactures naturally powerful and effective pest solutions that keep pests away, without killing or poisoning them. All EarthKind® products are designed by inventive artists, scientists, and engineers who care about the earth, made in the USA with 80% of the materials sourced from American farms, and the company is providing handicapped individuals with meaningful employment. Kari was awarded the 2019 GMDC Retail Champions of Change award for her role as an inspirational industry retail leader and was named to the EY Entrepreneurial Winning Woman Class of 2012, 2013 ND SBA Small Business Person of the Year and National Second Runner Up. Her latest product line, Stay Away® was the winner of the 2015 NEXTY People's Choice Award for Best New Product of the Year. Learn more at https://www.earthkind.com and on social media:
Facebook: @EarthKindLiving
Twitter: @EarthKindLiving
Instagram: @EarthKind.Living
Pinterest: @EarthKindLiving
YouTube: @EarthKindLiving
About the Mom's Choice Awards®
The Mom's Choice Awards® (MCA) evaluates products and services created for children, families and educators. The program is globally recognized for establishing the benchmark of excellence in family-friendly media, products, and services. The organization is based in the United States and has reviewed thousands of entries from more than 55 countries.
Around the world, parents, educators, retailers, and members of the media look for the MCA mother-and-child Honoring Excellence seal of approval when selecting quality products and services for children and families.
Learn more about the Mom's Choice Awards by visiting their website: http://www.MomsChoiceAwards.com.
About NAPPA®:
Integrity and honesty are at the core of what NAPPA stands for. For over 30 years, the National Parenting Product Awards (NAPPA) has been ensuring that parents purchase the highest quality products that help them connect and enjoy time with their families. NAPPA's team of evaluators, along with parent and child testers, select the best baby gear, toys, apps, games, books, music, and other family must-haves to be award winners through year-round product testing. For more information, visit http://www.nappaawards.com.