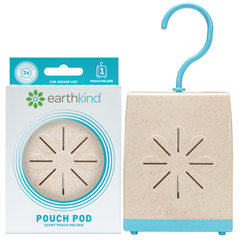 With this breakthrough innovation, the potential for biomaterials to reduce reliance on plastics is a reality, says EarthKind's CEO/Founder, Kari Warberg Block.
Bismarck, ND (PRWEB)April 01, 2019
EarthKind®, makers of award-winning, plant-based pest prevention pouches, continues leading the way in sustainable breakthroughs.
EarthKind's Pouch Pod™ was designed to not only extend the shelf-life of the brands' Stay Away® repellent pouches, but also to be an eco-friendly and economical alternative to plastic containers. Made with flax-filled PLA resin, the Pouch Pod™ design resulted from a 2-year collaboration with scientists, engineers, and EarthKind's CEO/Founder, Kari Warberg Block, who relentlessly seeks new innovations to tackle climate change, pollution, and harmful chemicals in our environment.
"Working with forward-thinking, eco-minded scientists, artists, and farmers on this product was not only inspiring, but reaffirmed my faith that together, we can discover and create sustainable solutions for the products and practices that are most threatening our Earth," says Warberg Block.
EarthKind's Pouch Pod™ is made from flax shive grown on North Dakota farms, creating a rigid, 100% bio-based container. The Pouch Pod™ is biodegradable and reusable for up to three-years when decomposition naturally begins, and allows for a slow, consistent release of the pouch's oils, preserving product for up to 3x longer. It also functions to prevent children and pets from tampering with the Stay Away® pouch, while protecting finished wooden surfaces and clothing that may be affected by the essential oils in the pouch.
"With this breakthrough innovation, the potential for biomaterials to reduce reliance on plastics is a reality," notes Warberg Block, who believes, "Utilizing innovative, sustainable packaging materials, and minimizing waste through design, is vital for creating eco-conscious products that will decrease pollution and our carbon-footprint."
EarthKind® has a 98% carbon-free footprint, certified by the USDA Bio-Preferred Program, achieved through Just-In-Time (JIT) Manufacturing, reducing Work-in-Progress (WIP) and changeovers, and minimizing defects in the manufacturing process. By using reusable and recyclable shipping containers for their raw materials, EarthKind® leaves almost nothing in the landfill, with all ingredients sustainably sourced from American family farms.
EarthKind® is determined and excited to keep raising the bar for sustainable initiatives, with an overall mission to reduce people's reliance on harmful pest control methods from 90% today to 50% by 2020.
This Earth Day, Warberg Block encourages everyone to celebrate our planet the EarthKind® way – by being proactive, spreading awareness, and always loving life and living kind.
Media interested in learning more about EarthKind® or interviewing CEO/Founder Kari Warberg Block, please contact Sara White at [email protected] or 212-693-2152.
About EarthKind®
Founded by leading pest prevention expert Kari Warberg Block, EarthKind® is a pioneer in natural prevention for families and households everywhere. Its line of high performance, plant-based pest repellent products provide kind and effective ways to get rid of insects, pests and mice, while bringing inviting smells into your home. All EarthKind® products are sourced from American farms and designed by inventive artists, scientists and engineers who care about the earth. EarthKind® products are made in the USA and the company provides handicapped individuals with meaningful employment. Kari was named to the EY Entrepreneurial Winning Woman Class of 2012, 2013 ND SBA Small Business Person of the Year and National Second Runner Up. Her latest product, Stay Away® was the winner of the 2015 NEXTY People's Choice Award for Best New Product of the Year. Learn more at EarthKind.com and on social media: