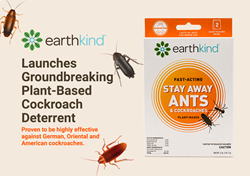 We're thrilled to be launching Stay Away® Ants & Cockroaches as a healthier, safer solution to prevent one of the scariest pests. This is a huge win not only for us, but for homeowners across the country
MOORESVILLE, N.C. (PRWEB) JUNE 04, 2021
EarthKind®, makers of naturally smarter® plant-based pest prevention products, is cracking the code on cockroach prevention, without killing or poisoning them. Supported by research-backed efficacy trials from T.E.C Laboratory, EarthKind's fast-acting, long-lasting formula prevents cockroaches from infesting treated areas of the home with its botanical-based pouches. Trial results revealed over 82% efficacy against the German cockroach, the most common species found in US homes, while also effectively repelling against the American, Oriental, and Brown-Banded Cockroach.
"At EarthKind®, we are determined to discover innovative, affordable, naturally smarter® solutions to pest prevention without harming the health of our homes, environment, or the pest," comments Kari Warberg Block, CEO/Founder of EarthKind®, "After rigorous third-party scientific trials, we were excited to unearth that our Stay Away® Ants product proved to be highly effective in repelling cockroaches, particularly the German cockroach, the biggest home invader. As a result, we're thrilled to be launching Stay Away® Ants & Cockroaches as a healthier, safer solution to prevent one of the scariest pests. This is a huge win not only for us but for homeowners across the country."
EarthKind® has been working to develop an effective botanical cockroach repellent to reduce homeowners' exposure to cockroaches' serious health risks. The World Health Organization (WHO) regards cockroaches as "unhygienic scavengers in human settlements," as they can carry numerous types of bacteria, parasites, human pathogens, and can trigger allergy and asthma symptoms, especially in kids. In fact, cockroaches are one of the most common sources of indoor allergens, with a recent study by the National Institutes of Health revealing that 1 in 5 children are severely sensitive to cockroach allergens. Research also indicates that cockroaches are the number one allergen triggering asthma symptoms in inner-city children. The National Pest Management Association estimates that cockroach allergens can be found in 63% of all US homes. In urban areas, this rises to between 78% to 98% of homes.
"Cockroaches are a real threat to our homes and our health, but the truth is, they've been around for over 365 million years, and they're not going anywhere. They're one of the hardiest, toughest critters on the planet. In fact, they can even live for a month without food, hold their breath in water for 40 minutes, and can survive for a week without their head! In some cases, they've even out-smarted the pesticides and have become pesticide-resilient. So, why keep fighting them with the same poison-and-kill-based methods? Especially when those chemicals pose a risk to our health, too. Instead, the key to a cockroach-free home is prevention, and the answer lies in nature's scents," adds Warberg Block.
Recent genome sequencing revealed that cockroaches have around 150 olfactory (scent) receptors, nearly twice as much as other critters in its order. "Cockroaches rely heavily on their sense of smell. So while the smell of food and water lures them in, certain scents can disrupt and mask their olfactory receptors from guiding them to it, prompting them to go elsewhere," informs Warberg Block. "Additionally, disguising your home as a no-go zone prevents cockroaches from laying down a chemical trail that tells other cockroaches to come in and stay awhile. It's a domino effect," she adds.
EarthKind's Stay Away® Ants and Cockroaches' fast-acting, plant-powered ingredients are sourced from American regenerative family farms, upholding EarthKind's commitment to sustaining a transparent ingredient supply chain. Simply place the repellent in hard-to-reach, pest-prone areas of the home, such as under appliances, food storage areas, closets, and basements, to create a pest-free zone for 30 days, guaranteed. All EarthKind® products are safe for use around children and pets when used as directed.
"The addition of our cockroach deterrent furthers our commitment to product innovation, sustainability, and to protecting the health of the home environment by keeping it free from pests. We're excited to continue leading the way in the pest control industry's efforts toward natural product innovations" comments Warberg Block.
As the fifth addition to the Stay Away® line, Stay Away® Ants & Cockroaches joins the brand's Stay Away® Spiders, Moths, Rodents, and Mosquitoes products. EarthKind® products are available at retailers nationwide, such as Target, Costco, The Container Store, Grove Collaborative, Lowes, Tractor Supply, and ACE Hardware, and can be purchased online at https://www.earthkind.com
About EarthKind:
Founded by leading pest prevention expert Kari Warberg Block, EarthKind® is a pioneer in natural prevention for families and households everywhere. EarthKind® is a pest prevention brand that manufactures Naturally Smarter® pest solutions that are guaranteed to keep pests away, without killing or poisoning them. All EarthKind® products are designed by inventive artists, scientists, and engineers who care about the earth, made in the USA with 80% of the materials sourced from American farms and the company is providing handicapped individuals with meaningful employment. Kari was awarded the 2019 GMDC Retail Champions of Change award for her role as an inspirational industry retail leader and was named to the EY Entrepreneurial Winning Woman Class of 2012, 2013 ND SBA Small Business Person of the Year, and National Second Runner Up. Her latest product line, Stay Away® was the winner of the 2015 NEXTY People's Choice Award for Best New Product of the Year. As top pest prevention experts since 2007, EarthKind has been featured in Martha Stewart Living, Women's Health, HGTV, Better Homes & Gardens, and more. Learn more at https://www.earthkind.com and on social media:
FB: @EarthKindLiving https://www.facebook.com/earthkindliving
IG: @EarthKind.Living https://www.instagram.com/earthkind.living/
Twitter: @EarthKindLiving https://twitter.com/EarthKindLiving
Pinterest: @EarthKindLiving https://www.pinterest.com/EarthKindLiving/
YouTube: https://www.youtube.com/c/EarthKindLiving